Bergamot
Natural antibiotic and disinfectant for the skin which helps ward off microorganisms. In addition, the antibacterial action works well on acne prone skin, as it helps to kill the bacteria on the skin before it can react to create blackheads and pimples. Has an added property of helping to control excess oil production in the skin, which makes it an ideal choice for oily skin. The scent of the oil is basically citrus, yet fruity and sweet, with a warm spicy floral quality and is reminiscent of neroli as well as lavender oil. The colour ranges from green to greenish-yellow.
Orange
While used on the skin reduces puffiness and discourages dry wrinkled skin. Both the oil and the peel are used to stimulate circulation, while supporting collagen formation in the skin, which is required for a healthy, young-looking skin. Also used to clear blemishes, and increase perspiration, thus assisting the release of toxins from dull or blemished skin. The peel is often used as a natural exfoliator.
Sweet orange oil has a sweet, fresh and tangy smell, is yellow to orange in colour.
Ylang – Ylang
When used on the skin, it balances the production of sebum in the skin and thereby correcting and balancing overly-dry as well as overly-oily skin. Stimulates new cell growth, smoothes wrinkles and helps to beat pre-mature aging, releases facial muscle and tension. It has an exotic, sweet smell and is slightly yellow in colour.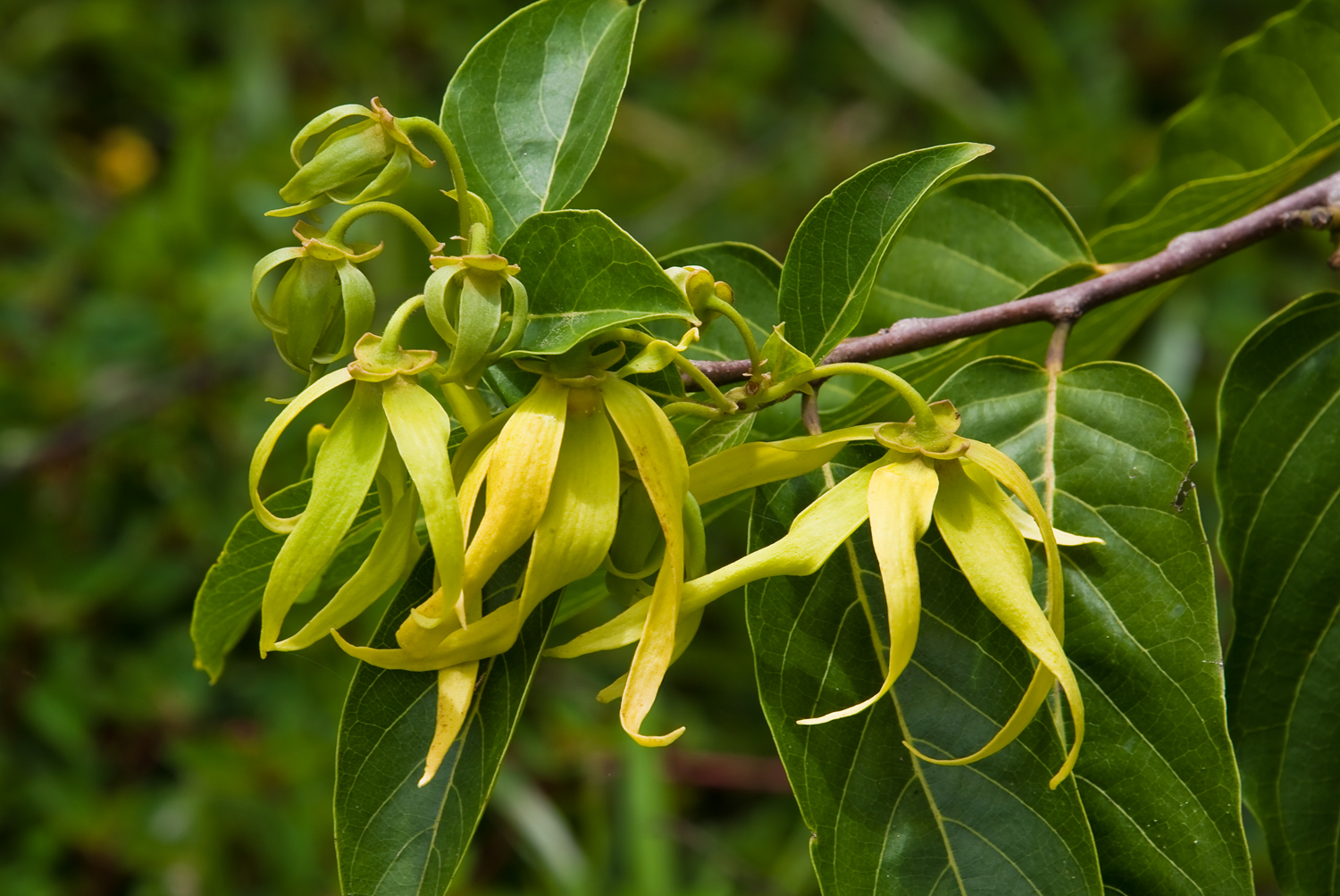 Lavender
When used on the skin, stimulates circulation, tones and revitalizes and it is useful for all types of skin problems such as abscesses, acne, oily skin, boils, burns, sunburn, wounds and psoriasis. Lavender oil is one of the few essentials oils that can be used neat on the skin, and this is especially useful when treating a minor burn wound. It has a healing effect, while preventing scarring by stimulating the cells to regenerate more quickly and balancing the skin. Any of the woody evergreen shrubs belonging to the genus Lavaendula, bearing spikes of pale purple flowers and yielding a fragrant oil. It has a fresh, clean scent.
Basil
When used on the skin, it helps to control acne. In general it refreshes the skin and can also be used on insect bites.
The essential oil comes from North Africa, Cypress, Seychelles and Europe. Steam distilled from the leaves of the herb, this light yellow-green essential oil has a clear, herbaceous, and light refreshing scent with a faint balsamic woody back note, and a lasting, slightly licorice, sweetness.
Carrot Seed
Carrot seed has a nearly magical rejuvenating effect on the skin, to not only soften and smooth the skin, but to assist with cell growth and skin rejuvenation. Protects skin exposed to weather extremes and is indispensable for hikers, skiers and outdoor athletes. Helps to deter and reduce wrinkles.
Has a heavy, woodsy, earthy, fruity scent. Thin, yellow oil distilled from ground seeds. Rich in beta-carotene and valued for its' soothing, relaxing properties, it stimulates cell renewal as well as the sweat and sebaceous glands.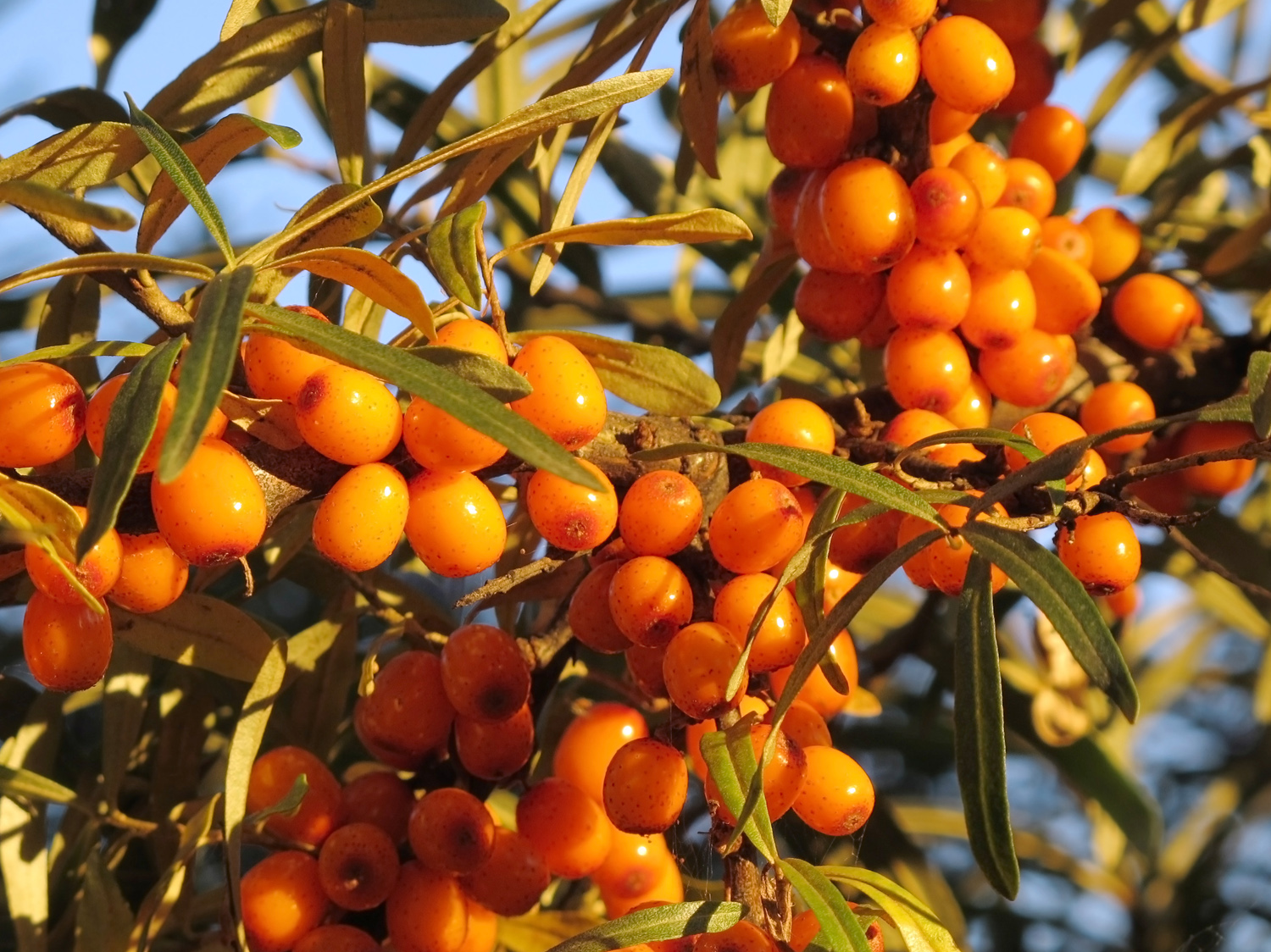 Sea Buckthorn
Sea Buckthorn berry oil contains a wealth of the nutrients, proteins, and essential fatty acids that make skin healthy and strong. When applied directly to the skin, the oil prevents the development of wrinkles and has an anti-aging effect on its appearance. Best of all, when the oil is absorbed into the skin it does not cause drying like many moisturising products and lotions do. It can also be used to protect the skin from the UV rays, acting as a low-level sunblock.
Geranium
Can be used to help in the treatment of acne, bruises, burns, cuts, dermatitis and eczema. It will help to balance the oil production of the skin and help keep it supple. Brings a radiant glow to skin. Highly therapeutic, antiseptic and astringent. Works well on oily and acne prone skin. Essential oil with a fresh, sweet floral fragrance obtained through steam distillation of one of the 700 species of the Geranium family.
Rose
On the skin it is most effective for moisturizing and hydrating the skin, while having a general stimulant and antiseptic action, which is good for all skin types, but especially so for dry, mature and irritated skin. It is used to repair broken capillaries, inflammation as well as skin redness and is useful in eczema and herpes.
Rose essential oil has a deep, rosy, fresh aroma, the colour ranges from clear to a pale yellow or greenish tint.
Rosewood
Rosewood essential oil is most effective to stimulate the cells and regenerate tissue, therefore aiding rejuvenation of the skin. Rosewood is used to reduce the appearance of acne. It is also believed to be an excellent choice for use in soothing irritated and sensitive skin and is appropriate for individuals with oily skin as well as those with dry skin.
The oil has a slightly spicy, floral and sweet smell.
Palmarosa
Palmarosa oil moisturizes dry the skin, while balancing the hydration levels and stimulating cell regeneration. It balances production of sebum, to keep the skin supple and elastic and is valuable for use with acne, dermatitis, preventing scarring, rejuvenating and regenerating the skin, as well as fighting minor skin infections.
Palmarosa oil has a sweet floral, with a hint of rose smell and is pale yellow in colour.
Chamomile
When used on the skin, it is a miracle worker and calms red, dry and irritated skin, as well as calming allergies, eczema, psoriasis and all other flaky skin problems. It is high in -(-a)-bisabolol which promotes granulation (healing) and is also a great tissue regenerator. Chamomile also has very low toxicity so it is good for babies and children.